SCS Introduced PrecisionCoat VI at Assembly Show
SCS is pleased to announce the introduction of its new machine platform for coating and dispensing, the PrecisionCoat VI. The PrecisionCoat VI debuted at The Assembly Show, which took place October 26-28, 2021, in Rosemont, Illinois. SCS offered live demonstrations of the system in their booth.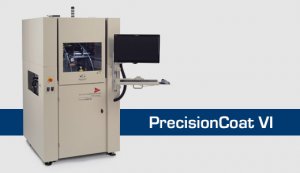 Building upon the outstanding reliability and precision of its predecessor, this new platform offers customers unmatched conformal coating and dispensing flexibility through a wide range of valves, tools and features. The PrecisionCoat VI incorporates five programmable axes, servo motor position control and up to eight tools (with AQC feature) on a single machine to achieve accuracy, repeatability and high throughput for a wide range of automated material application.
The Automatic Quick Change (AQC) feature allows customers to utilize the full workspace of the PrecisionCoat VI with the use of up to eight valves or tools, individually positioned with independent materials and functionality. This industry-leading feature enables users to automate and control the application of multiple materials, including how the materials interact with one another within a single coating profile. To learn more about the PrecisionCoat VI, visit scsequip.com or contact Hans Bok at 508.997.4136 or hbok@scscoatings.com.
Global Coverage Issue 90, Fall 2021
---
MORE FROM THIS ISSUE: